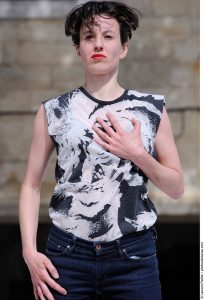 © Laurent Paillier
MARIE LECA is artistic collaborator and dancer with PLAY / Michèle Murray. Of French nationality, she studies piano and ballet at the "Conservatoire National de Région" (CNR) in Paris. She then studies contemporary dance at the "Conservatoire National Supérieur de Danse et de Musique de Paris" (CNSMDP), where she obtains her degree in 1996.
She has worked as a dancer for choreographers Pierre Droulers, Dider Théron, Hélène Cathala, Carlotta Sagna, Marc Vincent, Young Ho Nam, and is currently working for Thierry Micouin as well as Olivier Dubois in his choreography "Tragedy"".
She holds the French teaching diploma (CA) and has taught at the "Centre Dramatique Montpellier", the "Junior Opera", as well as offering regular dance training for professional dancers. She also gives dance trainings for actors working with Pascal Rambert. Marie Leca has participated in seven works with Michèle Murray, and has been part of the company project since its beginning in 2000.